Apologies for the late post again! I've been busier than usual. It really looks like my dream is coming true-- I'm going to be moving to my family's farm, where my horses are boarded!! ...as soon as the rennovations are complete on the
1951 mobile home
out there.
Uh yeah, it's gonna be a while. Uck. I'm not sure how I feel about living in a trailer, but Hell, I guess I'd live in a shack in order to live in the country with my horses. Actually, this entire front end is now a gaping hole, so there's been significant progress already.
Anyway, let's move on.
I ran across a
Facebook group
listing grade/part Arabians for sale in OH, IN and MI. One poster, Sheri Mose, had some very interesting things to say about an Arabian breeder in MI. When another group member asked about the possibility of tracking down a certain horse, Sheri said that the stud in question had been neglected and then dumped by his owner, Sandra Bristol.
Apparently Sandy bred Egyptian Arabians in Michigan, possibly around the Rapid River area, and maybe was a neglectful, abusive scumbag breeder. If you know of anything that either corroborates Sheri's story or proof that Sheri is simply launching a character attack, please post!
I have another story of this kind, but one I'm far more sure about. I've though long and hard about writing about her, and I think the legal trouble I could get in is less important than warning folks. However, I want to hold off a bit longer until I make some more phone calls. For now, let's just say that I
highly recommend
staying away from Michele Macha, a breeder and trainer in Lena, WI.
It's the weekend, so let's inject some levity, eh? Have a great day or two off!
Purple carrots? Yep,
this article
explains how they were the norm not long ago, until orange became the popular color!
Now then, how about some more lol pics?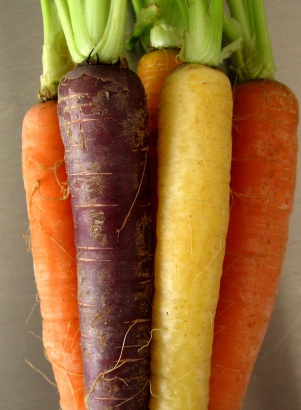 Stupid bit, Awesome mask!! Just don't bring him near any mirrors-- he'll spook!