It's late winter, and with most of the feed used up, now the hay shortage is hitting Wisconsin horse rescues
really
hard-- so hard, the Milwaukee Journal Sentinel actually did a lot of homework and wrote
an interesting and wide-ranging article
. Now would be a good time to donate any spare change you might have. See
my list
of WI horse rescues. If you don't have much cash, many rescues will also accept horse related stuff (tack, books, art, etc) to auction off for their fundraisers. While all rescues are affected by the high hay prices, Spirit Horse rescue, which I just
blogged about
, comes across as particularly desperate. More evidence of Spirit Horse's questionable practices.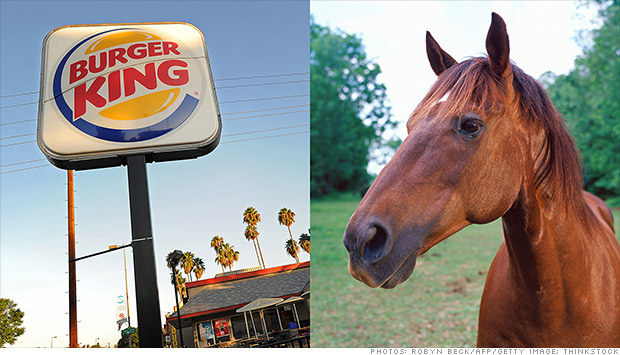 U.S. officials
continue to repeat
, at the tops of their lungs, that there is no horse meat is the American food chain. Their weak reassurances ring false, because all they have to base them on is that we inspect our meat. Uh, so did Europe. Have I mentioned yet that we don't DNA test any meat in the USA? The latest denial comes as companies
Ikea
,
Taco Bell
, Burger King and
Bird's Eye
pull meat products that have been proven to contain horse meat. Meanwhile, the scandal has spread to
Portugal
. I've lost count of the number of countries serving horse burger. Once again people, unless you're eating locally-raised beef you can identify, you ARE eating horse.
The
23rd Annual Klondike Days
is happening in Eagle River this weekend, and there are lots of horse activities going on there, including a vintage sleigh pull and horse weight pulling competitions. Other activities include dog sled racing, chainsaw carving, lumberjack competitions, snow shoe races, outdoor survival, you name it! Sounds soooo fun! Why do I have to work Saturdays?! :(
The
2013 Illinois Horse Fair
is also happening this weekend, and Wisconsin horse trainer Tracy Porter will be there. By all accounts, she's a really excellent trainer-- and I'm in love with her super-handsome, super well trained stallion Caz! Not only is he a trick horse, he's done distance/endurance rides and extreme cowboy races which involve tons of obstacles. See Tracy's website
here
.
A Kentucky Derby hopeful, a horse named Titletown Five after a Greenbay Packers player, has a cool connection to Wisconsin. His jockeys even wear Packers-inspired racing colors! Read the story
here
.
Perhaps because of bloody incidents like
this one
, Watertown, WI is considering passing legislation against pitbull dogs.
This article
details exactly what owners would have to do (or not do) if they want to own even a
part
pitbull. The measures are certainly prohibitive. One again, I'm not sure how to feel about this issue. What are your thoughts?
Hey folks, I know I already mentioned the hay shortage, but even beyond that there are a few good rescues that really need your help right now!
Dr. Laura Knipfer's Horse Rescue Closing -- Horses FREE to Good Homes!
This Deerfield-based rescue has been in the process of closing for quite a while, and now the owner has even taken to posting free horses on Craigslist. Here's her list of horses needing homes:
"I have several rescue horses I'd like to re-home to people with time, talent and desire. First up is a 2 year old orphan filly that I brought back from the brink of death that is ready for discipline and a job. She is an Arab-type, sorrel, 12H. Next is a yearling quarter horse colt. He is purebred, but his papers were lost. He is by a Jet Deck stud. He is sorrel with a star. VERY handsome, but cautious. His mom is an AQHA sorrel mare, 8 years old. Beautiful. Career Idaho broodmare taken in as a rescue. Papers were also lost, but would make a rockin' Ranch Horse. Unhandled, but curious. I also have several aged pasture companions. The old guys all have good ground manners, are easy to catch, are good in a herd and LOVE attention that they don't get enough of here since I have so many. All are free to good homes. Please be prepared to provide references."
You can contact Dr. Knipfer
here
, or see her
Craigslist ad
.
MHWF
needs to collect $3,400 in donations, no later than March 8th!
Midwest Horse Welfare was cheated out of hay they had bought. The guy storing the hay fed it to his cattle instead. They need to raise funds ASAP to buy more hay, and of course hay in February after a drought year is expensive! Get more info on donating
here
. By the way, this is NOT one of those rescues that is constantly on the brink of disaster-- this is genuinely a one-time crisis, NOT of their own making.
Saint Francis Seeks Donations
In addition to their regular (large) bills, including the aforementioned expensive hay, Saint Francis has just taken in a couple of new horses, one of which has really needed extensive care. Warrior, a handsome old ex-racehorse, was saved from death by starvation or slaughter. He's doing well, but has a long way to go. Click
here
to find out how you can help one of the best horse rescues in Wisconsin!